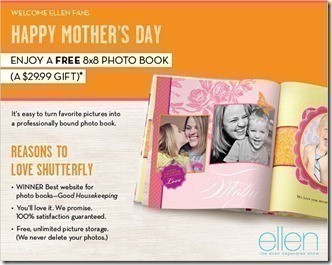 There are 2 different free 8x8 hard cover photo book promo codes floating around from Shutterfly. That means you can get a great Shutterfly book for around 8 or 9 bucks for the shipping charge. That's the best price I've ever seen. I love these books. They are a great way of keeping up with photos.
One of the codes is 4Y82-D3M9 (Ellen Show promo)
The other is XJPV-2G63 (Family circle promo)
Hurry, I'm surprised these are still active today yet!
Go to
shutterfly.com
and create an account and add these into your account quickly before they're gone!